Om Nom Toons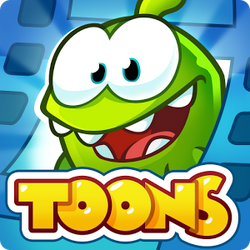 Release information
August 12, 2016 for

August 12, 2016 for

---
Platforms
iOS, Android
---
Genre
Media
Om Nom Toons is an app by ZeptoLab, released on August 12, 2016. It features all the episodes from Om Nom Stories.
Om Nom feature
Edit
There's a button with Om Nom. When you push it, Om Nom appears. You can make him do the same moves with those of Cut the Rope 2. Also, there is the appearance of two clouds. When you push the first one, Om Nom does a random move and when that one with the camera, you watch a random episode from Om Nom Stories.
Other series
Edit
Community content is available under
CC-BY-SA
unless otherwise noted.