Fruit Market
General Info
Release Date:
June 2014
Levels:
24
Episode No.:
6
Previous Episode:
Underground
Next Episode:
Bakery
Stars to unlock:
280
Difficulty:
Hard
Game:
Cut the Rope 2

Fruit market is the sixth place in Cut the Rope 2. It introduces Snailbrow, the one-eyed snail who loves fruit. He moves when something hits him or when he is tapped. In episode 27th episode of Om Nom Stories,fruit market,Om Nom got in the market and met Snailbrow. The fruit market consists of apples,durians,an unknown spiky purple shell fruit,pears,oranges,melons,chilli peppers,bananas and celery.
other notes
Edit
the swinging fruits were the purple shell fruit,durians and apples.
snailbrow lives there
on a bucket of celery,it says '0.50' in the episode "fruit market".
When snailbrow is hit sometimes when he is stopped, sometimes he isn't come out of his shell but still moves.
candy can balance on snailbrow although it is round and would fall off.
in the episode,the fruits occasionally switch places.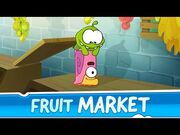 Community content is available under
CC-BY-SA
unless otherwise noted.