Disco Era is the seventh level pack in Cut the Rope: Time Travel. It features two distinctive gameplay elements: a laser beam and a disco ball. The ray emitted by the laser beam can destroy the candy, but fortunately, the laser ball diffuses the ray and stops its propagation. Completing the level, therefore, generally requires putting the disco ball in front of the laser beam, and often in a timely manner.
Notable levels
Edit
Level 7-1 gives the very basics of Disco Era mechanics, introducing a laser beam and a disco ball. Level 7-2 is barely harder with two crossing laser beams.
Level 7-3 has a time freeze button, which is extremely useful in the Disco Era and will then appear in levels 7-11 and 7-13.
Level 7-7 makes use of clocks and portals, showing that the disco ball can go through the portal.
The following levels explore the game mechanics of the disco ball, which is in many ways similar to candy: a bubble can lift the ball up, a bomb can throw it into the air, a rocket can carry it away.
Level 7-15 is notable for having a periodic layout: a bubbled disco ball is going up into a portal, popping at the bottom of the level and going through the loop again and again.
Walkthroughs
Edit
Main article: Disco Era/Walkthroughs
Appearance
Edit
The box image is a big disco ball reflecting Om Nom ancestor and a candy. The background of the levels has drawings of an audio tape, a vinyl disk, a disco ball and a guitar-shaped keyboard. The ancestor's style is that of 70s disco stars and idols: wearing an afro haircut and big shaded glasses.
Choose a video it lomed disco ball if you dance is it on lasser is it is Disco era: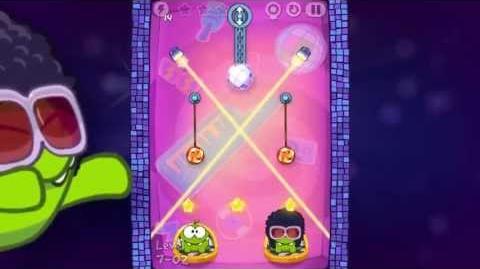 On completing the level pack, player gets Disco dancer achievement. On completing Disco Era with 3 stars, player gets Star of the floor dance achievement. Note that Disco Era is the place to get Laser show achievement.
Community content is available under
CC-BY-SA
unless otherwise noted.