Cut the Rope: Time Travel



Title

Cut the Rope: Time Travel

---

Released

April 18, 2013 for

April 18, 2013 for

March 28, 2014 for Nintendo 3Ds

---

Platform(s)

iOS, Android, Nintendo3Ds

---

Genre(s)

Puzzle

---
Cut the Rope: Time Travel is a Cut the Rope sequel that was released on April 18, 2013. It shows Om Nom travelling back to the time of his ancestors. In terms of gameplay, the player now has to feed candy to two monsters rather than to only one.
List of Boxes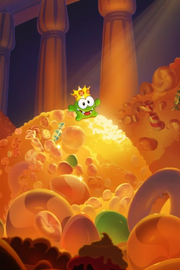 Unlike the original game, boxes now contain 15 levels each. The story begins in 2013, when a time machine appears in Om Nom's room while he is trying to eat a piece of candy. The time machine opens and sucks in Om Nom's candy. The little creature tries to get it back, but is sucked into the time machine. He appears too obese to get through. He tries to push himself out, but is sucked back in, making Om Nom start a journey through several epoques. As of February 2017, the game features 12 time periods:
The story finishes with Om Nom reaching a vault full of candy. We see him with a crown decorated with candies. It's unknown how he got home, but somehow he probably did.
Cartoon
Main article: Om Nom Stories
Om Nom Stories cartoon series launched a new season along with the release of Time Travel. These animated shorts give more detail on Om Nom traveling in time.
Achievements
Main article: Achievements
The game includes achievements system implemented with the help of Scoreloop service. As of August 2013, the game has 29 achievements.
Gallery
External links
Community content is available under
CC-BY-SA
unless otherwise noted.