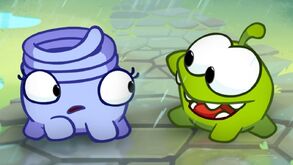 The episode starts with Om Nom walking in the park in a sad mood. He then finds a candy on the wall. He then tries to climb up the wall to get the candy. But he falls instead. Then, One of the bricks ends up falling on the wall. But then, Toss comes in and uses her spring to bounce the brick up. Om Nom then teases Toss by touching her spring. She then gets freaked out and runs away. Om Nom tries to look for her. Later, he notices a garbage can and uses it to climb it the wall. Later, Toss comes back again, wondering where Om Nom is. Om Nom then bounces off the wall and Toss uses her spring to help Om Nom get up the wall. Om Nom then eats his candy. Toss is shocked by this. The episode ends with Om Nom greeting happily to Toss.
Community content is available under
CC-BY-SA
unless otherwise noted.