Candy Prescription
General Info
Release Date:
November 22, 2012
Episode No.:
4
Previous Episode:
Favorite Food
Next Episode:
Halloween Special
Season:
1

Candy Prescription is the fourth episode of Season 1.
Om Nom has a bad day, and evan tries to find a solution in the wrong way ; all Om Nom needs is a little sweet.
Om Nom is in Evan's room searching in a basket, but he is luckless. Then it starts raining as Om Nom becomes more upset, while Evan enters to the room and thinks Om Nom is sick, so he puts a thermometer in Om Nom's mouth, only making him spit it. Evan doesn't gives up and tries to give Om Nom some medicine syrup, only causing him to try to hide. Om Nom tries to make Evan understand that he only wants candy, but he brings a balloon like thingy which Om Nom doesn't likes making him crawl to a lamp, that lights and makes Om Nom see his skeleton. afterwards Evan brings an air pressure band and makes Om Nom fly, he tries to grab of something he topples a candy filled basket which accidentally causes a water fall but with candy in top of Om Nom. happy, Om Nom eats the sweets making the sun come back and Evan figures that Om Nom's " sickness" was just candy missing.
Hidden Star
Edit
The hidden star is in a red book in the scene Om Nom topples the basket.
Curiosities
Edit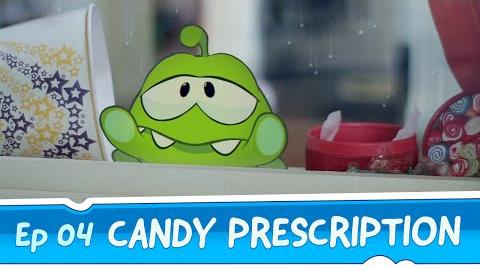 Om Nom may control the weather, or the weather changes are just for making the scene look better.
The beginning and ending baskets are the same. Explain that zeptolab!
Community content is available under
CC-BY-SA
unless otherwise noted.